1) OK, so what is this" proof"? Can you provide a link or further details so that we can read about it? If it has been "suppressed", how is it you know about it? And if you know about it, you can share it with us, so that it is no longer "suppressed".

Also, how do you account for the fact that relativity is so successful, if its fundamental premise is actually wrong? Some examples:

2) - our GPS systems work, and they depend on relativity to do so.

3) - the precession of the perihelion of Mercury is exactly what relativity predicts.

4) - the mass defect in atomic nuclei fits the formula for mass-energy derived from relativity.

5) - the lifetime of muons from cosmic rays is increased in line with the predictions of relativity

6) ...and so on.

7) Or are all these phenomena fakes, dreamt up by some sort of world Jewish conspiracy, or something?
1) Classified as military secret, as every scientific activity conducted by military at both sides of the Cold War, since 1945,
and specially in the period 1939-1945 (try to find a scientific paper of value within this period).
You can read (available for download) the book 'The farce of physics', written by Bryan G. Wallace and published in 1994.
2) GPS doesn't depend on relativity, in particular 1905 STR. Gravitational effects are explained by newtonian physics and, IF
THEY WEREN'T, would be corrected as a distortion of unknown origin, and solved as 100's of other phenomena in technology,
just by adjusting the average shift. STR doesn't apply and doesn't work either, as 36 different reference platforms are synchronized
by a couple of fixed stations at Earth, all of them at once each day.
3) Mercury's perihelion was exactly explained by Gerber in 1897, and his non-relativistic formula was EXACTLY copied by Einstein in 1915.
This is a link to his original work, translated to English: http://www.alternati.../Perihelion.htm
The Spatial and Temporal Propagation of Gravity
by
Paul Gerber
in Stargard, Pomerania, 1898
And this paper, written 18 years before Einstein proof, was publicly acknowledged by Einstein in 1920, and his validity was denied
because it was based on Weber's electrodynamics (one more sample of Einstein's arrogance and cynism).
4) Are you talking about the famous 200 MeV that are missing at the fission of U-238 since 1939? That's how the history is re-written.
Write exactly "200 MeV" fission at Google ("xyz" forces google to deliver only results where xyz is mentioned). You will get
about 94,000 results, all of them in accordance with E=mc2. And this is collusion for me.
5) The famous muon lifetime of 2.5 microseconds. This link provides an explanation and
also presents an unsolvable paradox for STR (which invalidates the results):
http://www.alternati...nRelativity.htm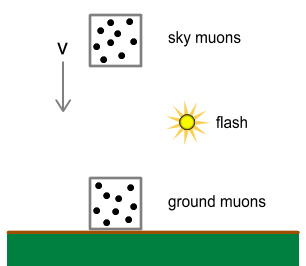 6) Keep posting examples about STR verified on real experiments. I'll give you counter-examples.
7) Not at all. Only are derived from a derranged theory born with the failure of the 2nd. Michelson-Morley
null experiment, originated in FitzGerald's mind by 1889 (length contraction), which found fertile ground
into the mind of another looney-tunes person like Lorentz, who had to be saved by Poincaré from his
mistakes with his relativity theory. By the way, Poincaré was a strong advocate of the changes needed
at the newtonian physics since mid 1890's, and this line of thought drove his research about relativity,
which was mathematically far more advanced than Einstein's 1905 STR, and resembled Minkowski 1909
redefinition of STR.
So, there is a problem with the newtonian physics and actions at a distance, but the road that begun in
1889 and ended in 1909 has many persons to blame.
This link explain how the things about relativity were derailing time after time:
Michelson, FitzGerald and Lorentz: the origins of relativity revisited
http://philsci-archive.pitt.edu/987/
The only person I exclude from this, even when was wrong, was Henri Poincaré, a true genius.
The rest, Einstein included, is garbage.
Lorentz plagiarized Voigt and Heaviside, and took advantage of Poincaré.
Einstein plagiarized Voigt and Poincaré, who named HIS transforms after Lorentz.
Minkowski plagiarized Einstein and Poincaré, taking advantage of being in permanent contact with the naive frenchman.
Planck helped Einstein and corrected and extended his STR (stealing his thunder), so he wasn't innocent after all. Planck was a role model for Einstein, after his 1900 journey around black body radiation, which was questionable, at least.
Etc, etc, etc....
If this happened 120 years ago, imagine how the physics machinery works today. Deplorable.
So, if there is a conspiracy at physics, it's based on the fear of the unknown. Better to stick to something that "is not even wrong"
instead of circling around figuring out what to do with the darkness that the ignorance poses.
Then, scientists, in their (our) short lifespan, can feel that did something instead of nothing, even when they know that what they do is
wrong. As ever was, to get money to pay expenses is more important than to pursue the truth, and has more compensations (fame,
prizes, sense of belonging, etc.)
Edited by rhertz, 08 May 2019 - 09:58 PM.