Observed expansion motion may not be an actual expansion of space, it could be a moving apart of mass in space from a center at divergent angles in a specific pattern. There is a simple pattern of motion from a center that would offer every observer within the illusion of center, all other objects receding directly away from him. This simple motion could explain why local expansion motion is barely observable without any twisting of the idea. This model suggests that this is because as the Universe gets very old, objects of common velocity (away from center) are those that are now "local", therefore relative expansion motions of close-by objects are slight. The older the Universe, the more slight, therefore, more and more undiscernible. Objects of higher or lower velocity than the observer have simply moved away with time, so the further away the faster. The observed motions comply with the Hubble formula. The reason all objects appear to be moving away from each other is simply an illusion within the pattern of motion away from center, seen by every observer within, no matter where you put him (or her).
Actual motion of all objects away from a center: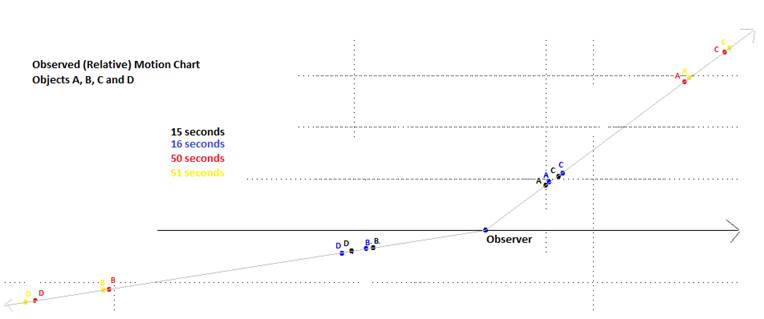 Relative motion (observed motion) from anywhere within the expansion Every observer perceives himself at the center of an expansion.
(in this pattern of motion, all observations of expansion from any position within expansion will match what would be seen if the observer were standing at true center looking at the same configuration of object placement. He is not at true center, but he is seeing the universe around him as if he were.)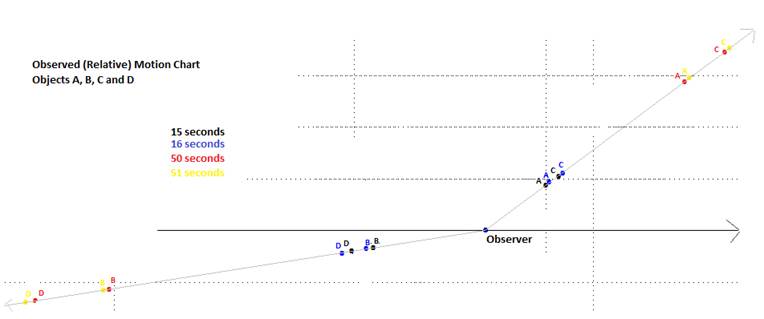 I built a simulator based on a simple pattern of motion away from a center. My whole website is really just what came out of running it. Most of the observations I thought would eliminate my simulator but when I googled what was being offered I found out were actually being observed. Here is what my simulator offers so far concerning current actual observations:
· An illusion of center, no matter where the observer is or when.
· The actual velocity of every object depends on its distance from center, increasing the further out.
· The relative velocity between any two objects also depends on their distance apart, increasing the further apart they are.
· The pattern of actual and relative motions are all relatable using Hubble Law, and the Hubble Value at any moment in time.
· Expansion motion is far easier to measure the greater the distance observed.
· Expansion motion is more difficult to measure in "local" objects, and the scope of "local" expands with expansion age. The reason offered by this simulation is that objects with expansion motion higher or lower have simply moved away from us. Those closer to us ("local") are moving with nearly the same expansion motion, therefore, relative motion is increasingly slight.
· If an observer is out of sync in the pattern, acceleration shows up in the observed (relative) expansion motion, when there is none in the actual expansion motion. With distance, the acceleration becomes less measurable. With great distances, it disappears altogether.
· If expansion started out homogeneous at center the disk will remain homogeneous throughout expansion, and preserve this expansion pattern and its illusions, even with clumping of mass due to gravity.
· The Hubble Value reduces with each tick of the clock, as the density of the universe drops.
· With increasing age, the Hubble Value will appear to become stable (a constant), for long periods, depending on the sensitivity of measurements.
· Light from distant objects, emitted from their past, and from an earlier expansion period (under a different Hubble value), will offer a value (velocity and distance relationship) consistent with the time it is observed rather than the time it was emitted.
· Gravitational Lensing can produce two images of the same object. This simulator suggests that both will present any observer with the same value of H, no matter how much time is between their observations. It also suggests that lensing could be used to determine the distance the light travel of each image without knowing the distance of either path of light.
· Dark Flow is an observation reported by NASA of local expansion within the broader expansion. This model predicts such a localized motion and it is an illusion.
Motion concept: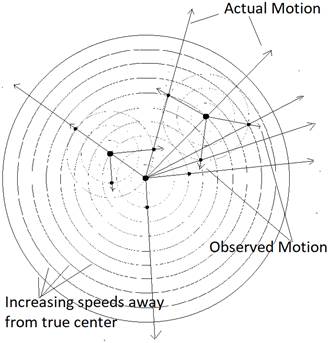 If you are willing to offer comments, please see the website I created to explore this idea...
Edited by RodneyBelieves, 03 May 2019 - 09:55 AM.