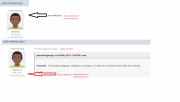 My ID is petrushkagoogol and the topic in Lounge is "On the lighter side".
When the page loaded it was showing 498 posts underneath my profile picture.
I submitted a response and the profile picture in the topic region was showing 498 posts, while that adjacent the latest response 499.
This is a blooper and should be addressed asap.