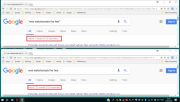 In the graphic, the quoted identifier string search returns 3 records in 0.25 seconds,
whereas, the search based on individual keywords returns 272 records in 0.24 seconds.
In T-SQL, this would be inverted I guess, as string to string, character to character matching, with quoted identifiers would be faster.
Do you agree ?
If this is the case, then how do search engines work ?