I learnt about the slow motion muon's microscope built in Japan.
http://slowmuon.kek....boutMuon_e.html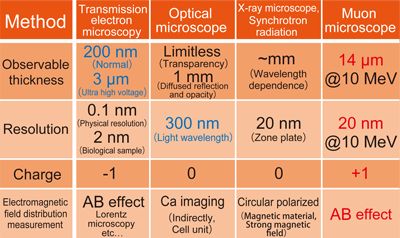 This news led me to think about muons and its use as one of the most published assertions about its fundamental
importance (cosmic muons) as an experimental proof of the certainty of the proposals of Einstein's STR: Time dilation.
In fact, this site: http://hyperphysics....ase/hframe.html
which is supported by the Department of Physics and Astronomy of Georgia State University (a serious site), offers
the cosmic muon effect as the only valid proof of STR time dilation.
From this site, I found a PDF which I attach here, which is a condensed version of STR time dilation proof, as conducted
by four scientists from such site: Movinka Bowie, Tom Hutchinson, Shivani Kanabar, and Shivakaran Sivanathan.
https://ph.qmul.ac.u... Relativity.pdf
Muons and Special Relativity.pdf 282.7KB 7 downloads
This particular document has data (cosmic muon's density at ground level, velocity, etc.) which differs from the mainstream.
They assert that Special Relativity would be proved in two instances:
If the rate of muons on ground level suggested a probable number of muons in the Earth's atmosphere according to STR.

If the number of muons was improbable when not considering the theory then this would be proof for Special Relativity.
I've read, at Wikipedia, the history of the discovery of the cosmic muon-
1) The first kind of muon- was discovered by Neddermeyer and Anderson at Caltech in 1936, while studying cosmic radiation.
2) The existence of the muon- was confirmed in 1937 by J. C. Street and E. C. Stevenson's cloud chamber experiment.
3) It was mistaken as the particle theoretically predicted by Hideki Yukawa, but it took another 10 years to find the Yukawa's
particle within cosmic rays (the Pion- or Pi-, with 20 nsec half-time life). It resulted that the Pion-, a byproduct of collisions
between energetic protons at high atmosphere and H, O or N atoms, is the father of the muon-.
4) In the following 15/20 years, different types of Mesons (muons, pions, etc.) were discovered at lab, using chambers and
particle accelerators. This link contains a historical photograph of the first muon- as it was found in a bubble chamber
(July 31, 1957).
https://picryl.com/m...chamber-c3e450 
5) History evolved since the '50s to the '70s, with the discovery of hundred elementary particles, until a communitary effort
by particle's physicists created the basis for a simplified model in the mid '70s, which was enhanced and adopted as the
Standard Model for Elementary Particles, after a big redefinition. The rest of particles, of mere existance, remain to be
used as they are needed. Muon- and muon neutrinos are now labeled leptons.
6) Japanese applied physics consider muon-, muon+, pion- and pion+ of rock solid existence (see the link provided above,
for the muon based microscope). They use muons and pions like in this pic: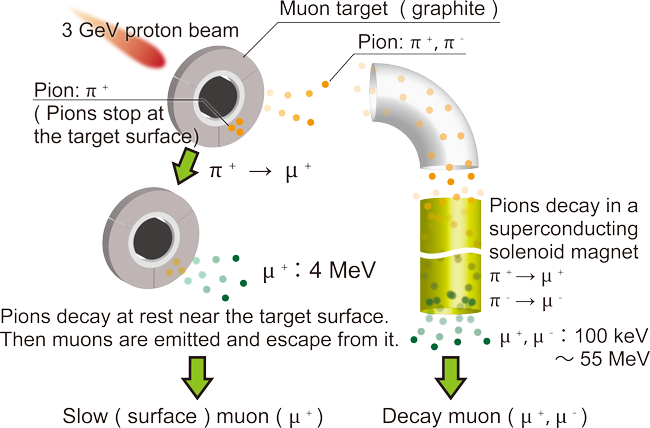 By using muon+ (positive muons) they gain confidence when analyzing frozen organic matter, like in this pic: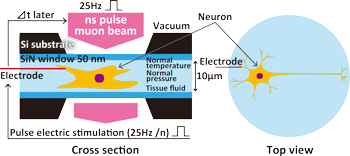 7) Regarding to cosmic muons and STR's time dilation proofs, from Wikipedia
(https://en.wikipedia...f_time_dilation)
First experiment (Wikipedia): In 1940 at Echo Lake (3240 m) and Denver in Colorado (1616 m), Bruno Rossi and D. B. Hall measured the relativistic decay of muons (which they thought were mesons). Note: There were not available statistics by then.
A much more precise experiment of this kind was conducted by David H. Frisch and Smith (1963), who measured approximately 563 muons per hour in six runs on Mount Washington. By measuring their kinetic energy, mean muon velocities between 0.995 c and 0.9954 c were determined. Note: this data from 56 years ago is still used widely.
Since then, many measurements of the mean lifetime of muons in the atmosphere and time dilation have been conducted in undergraduate experiments. Note: Not oficial records since 1963.
There are several questions to clarify in order to validate the results, such as:
Are cosmic muons of the same nature as laboratory created muons, which are affected by strong magnetic fields and bubble's collisions? The average half-life of ground level generated muons- could be greater than the results at accelerators.
Is there consensus about the height at which cosmic muons- are generated? Results varies from 6 to 30 Km.
How is measured the energy of muons- in outdoors experiments?. It's for when they are generated and when are detected.
Is there a chance that a mix between muons- and muons+ changes the result?.
Being the spread in time dilation factors at Frisch-Smith experiment above 40%, and that they averaged the results, has these values recalculated with precision, as well as the density of muons with height?
How are considered the effects of magnetic and gravitational fields in outdoors experiments?.
May be possible that highly energetic muons- (GeV), which posesses mass 1/9 that of primary protons, generate a chain cascade of regeneration of muons- until they reach ground level?. There is no way to mark which muon is which, specially by extrapolating a curve with just two points.
If the old concept of "relativistic mass" is used, the results should be discarded as invalid, as such a concept is not valid.
I'll try to find more reasons than the above mentioned, which I generated "on the fly" while writing this, without further research.
You are invited to post an opinion if you will, but please DEBATE and don't attack it with "ad-hominem" ways. This post only intend
to bring more topics to this forum.
Edited by rhertz, 22 May 2019 - 02:34 PM.