Solar Desalinator (Making one-- DIY + Serious Engineering)
This is something I would like to invent.
It is a bit bold of me to start a thread in the Engineering Forums seeing my only tool in my "toolbox" is a
Brazilian Screwdriver
which does me for most jobs.
Plus a phillips-head screwdriver that I had to buy so I could open up, and put batteries into, my Sonic-Screwdriver (seriously!
)
The Solar Desalinator should be something terribly simple that can produce serious amounts of water say to fill a river with no energy inputs other than the structure/building and the sun.
The basic design seems straightforward enough. Ancient Greek sailing ships carried them.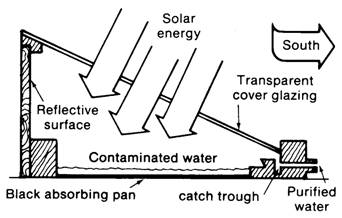 This one is facing the wrong way. It obviously needs to be facing North.
What prompted me to start this thread was my daily sketching of designs (last night0 and coming across this article today
Opinions ___________________________________________
Concentrating solar powered desalination - a water solution?
Thursday, 12 March 2009
By Stewart Taggart

Australia needs electricity and Australia needs water. Concentrating solar power can help provide both.

Unlike solar photovoltaics, which creates electricity directly from sunlight, concentrating solar power first creates heat. This heat can then be used either to generate electricity or to desalinate water. Properly configured, concentrating solar power can switch back and forth from creating electricity to water.

Given these attributes, Concentrating solar powered desalination is a technology with hugely positive potential implications for global drinking water supplies. With futurists warning that water could emerge as a 21st Century flashpoint for strife, solar desalination is an avenue that should be explored aggressively.
Concentrating solar powered desalination - a water solution?(ScienceAlert)
Acquasol Infrastructure Limited | Home Page | Welcome