Suppose there were a people on Australia that had not had any contact with us up until the middle ages, and they had developed their own science where they drew maps upside down and their campuses pointed to their version of north: the Antarctic. Then they would have drawn magnetic lines pointing towards the Antarctic. Whereas ours point towards the Arctic (click on image to see direction in theirs).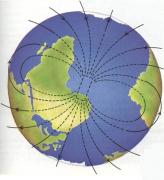 But wait, one day the Australians would have discovered the motion of charged particles in a magnetic field and come up with Faraday's law of induction that looked like this:
electromotive force (emf) E = dΦ / dt
whereas ours is:
electromotive force (emf) E = - dΦ / dt
where Φ = integral( integral( B . dA ) )
The negative sign is explained as the result of Lenz's law: "Nature abhors a change in flux". But it is missing in their version. As if Lenz's law does not apply to those Australians... evidently the two conventions are not as good. Other laws of physics would be messed up too with negative signs popping up all over the place or disappearing.
So is the choice of north pole arbitrary, or does nature really have ours hardwired in its laws?
Edited by Jonathan212, 01 July 2019 - 03:32 AM.