Since our forums were moved over to Invision Power Board, some people may find things confusing.
There are some new things to learn, and we're working on making tutorials for everyone. They will be posted here.
There is a "Help" section available:
http://scienceforums...ore&module=help
You will also notice that the user area has been moved to the top right. You can find all your content, private messages, settings and everything by clicking on your name and selecting the relevant area from the drop-down menu: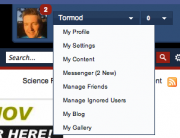 Please feel free to ask questions!